November 02, 2021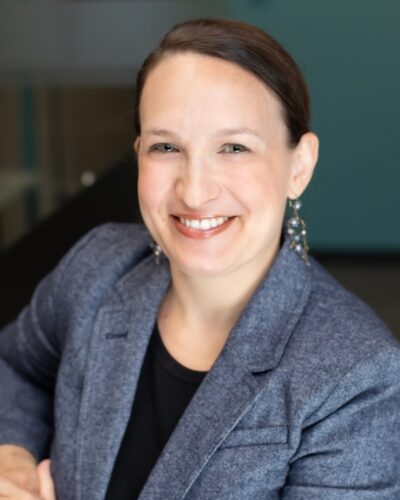 by Jillian Rosen, VP for Community Investment
Social change research group 4th Quadrant Partners maintain that a critical component for complex social change is a shared line of sight between members of a system or community, where all maintain an unobstructed vision from their current decisions and actions to their ultimate desired outcome.
I imagine a line of sight as a crystal ball that shows a preferred future where we are close enough to see it but can't yet touch it. Sometimes I wish I had a magical crystal ball to solidify a vision of the future and to share that image with our community. Turns out I don't have one of those—I've looked for one and Amazon was all out this month.
Since I don't have a crystal ball, I can help to create a shared line of sight for our community regarding grantmaking by sharing where AAACF is looking in 2022 with our organizational priorities and resource allocations.
In 2021 our Board approved, as part of an ongoing strategic planning process (to conclude in 2022), a strategic imperative that will guide the foundation's grantmaking and community initiatives: Leveraging AAACF's unique strengths to aggressively reduce inequity and increase opportunity in areas where we are well-positioned to lead and collaborate.
Even as we are still completing the full strategic plan, the Board and staff are advancing this strategic imperative.
What does this mean for our grantmaking and resource deployment? Our foundation will prioritize resources to support this imperative (leverage AAACF's unique strengths to aggressively reduce inequity and increase opportunity in areas where we are well-positioned to lead and collaborate) through four key objectives:
HEALTHY & FULFILLING AGING: Shape an aging experience in Washtenaw County in which all people can thrive as we all age and navigate older adulthood, tapping our greatest assets and building momentum to live our fullest lives.
COLLEGE DEGREE ATTAINMENT: Increase college graduation rates of local students of color, Pell-eligible (low income), and first-generation college students.
ECONOMIC EMPOWERMENT: Advance economic empowerment through systemic solutions for those struggling financially in Washtenaw County.
RACIAL EQUITY: Increase racial equity throughout the County by understanding and changing root causes of injustice.
The key objectives of Healthy & Fulfilling Aging and College Degree Attainment are continued priorities of AAACF over the past five years. While we continue these efforts, the other two objectives of Economic Empowerment and Racial Equity make explicit priorities that have been underway. They are informed by community conversations, focus groups, and interviews as opportunities for AAACF to enhance service to community and contribute to lasting change. These objectives mean that some current grant programs and funding opportunities will continue, such as our Community Scholarship Program and Aging Justice: Building Community Connection and Spaces.
Our commitment to live into our core value of Earning Trust means sharing an incomplete Line of Sight in terms of other grantmaking programs and funding opportunities. To earn trust, we are sharing this vision early because we need your contributions of ideas, connections, and ambassadorship to continue to shape initiatives that support these key objectives to further economic empowerment and racial equity. Shaping new grantmaking programs and funding opportunities also means that we will likely shift from expected and familiar grantmaking programs of the past.
As it often turns out, a crystal ball doesn't always get it right, and we will likely have some bumps and missteps during this time of change. To foster a shared line of sight, we will continue to communicate where we are in our processes, where we are changing, and what you can expect from us. We hope you'll continue to be our partners and guides as we work for a better future for all in Washtenaw County.
Waiting for a crystal ball, not so much. Seeking a shared line of sight with community, most definitely!