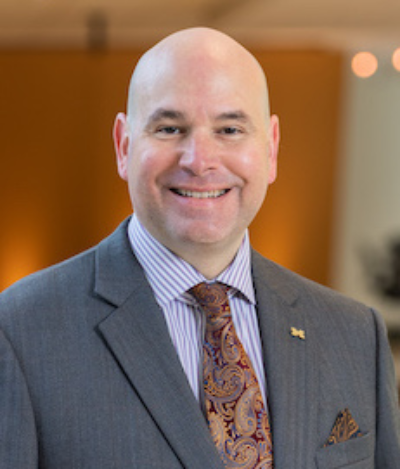 Vice President for Philanthropic Services, Philanthropic Services
---
Greg Witbeck
The Ann Arbor Area Community Foundation (AAACF) is pleased to announce the appointment of Greg Witbeck as the new Vice President for Philanthropy, effective August 21, 2023. He brings a wealth of development experience and a solid commitment to Washtenaw County.
"We are thrilled to welcome Greg Witbeck to our team," said Shannon Polk, President and CEO of Ann Arbor Area Community Foundation. "His extensive experience in philanthropy, coupled with his deep understanding of our community's needs, makes him an invaluable asset to our organization. Having started his career as a social worker, Greg understands the root causes that AAACF is committed to addressing. Greg's passion for connecting people and resources aligns seamlessly with our mission of enriching the quality of life in Washtenaw County."
Most recently, Witbeck served as Senior Director for Business Development and Director of Corporate and Foundation Relations with Michigan Medicine. Greg Witbeck comes to AAACF with a distinguished career within the University of Michigan development department, including roles as a major gift officer and director of development. His expertise includes donor engagement, fund development, and foundation collaboration. With 23 years of experience in development and a proven track record of leadership, Greg Witbeck is well-positioned to strengthen AAACF's relationships with donors, partners, and stakeholders while overseeing the foundation's strategic philanthropic initiatives.
"I am honored to join the Ann Arbor Area Community Foundation as the Vice-President for Philanthropy and to build on AAACF's impressive legacy of generosity," said Greg Witbeck. "I am deeply committed to working alongside the dedicated team at AAACF, donors, and community partners to amplify the foundation's impact and ensure that our community continues to thrive. "