April 21, 2023
Look around: tiny buds are sprouting on the trees and up from the dirt with the promise of new leaves and soon-to-be blooming crocuses, hyacinth, daffodils. Like the promise of spring flowers serves as a beacon for better days ahead, our mission at the AAACF is to serve a similar purpose in our community.
In this issue of the newsletter, explore all of the ways in which we're working with members of our community to make Washtenaw County the best place to live, work, and thrive.
For good. For ever. For all.
We're excited to announce our new website is live and ready to serve as a virtual hub for our community. Check it out!
Did you miss the TSOPMI award presentation at the opening for the pop-up exhibit of the Soul of Philanthropy in Ann Arbor? The winners are announced here.
We delivered 75+ pounds of food to Food Gatherers – see our proud team and learn more about our 20 year partnership.
Did you know you can donate any kind of asset to donor-advised funds at the AAACF – except QCDs? Find out how your QCD works with field-of-impact and designated funds.
Tax time is a great time to get serious about charitable giving – find out why!
Our president and CEO Shannon Polk was a featured speaker at the event hailed as "must-attend conference for institutional investors." See who else was at Commonfund's Forum 2023.
Our new website is live!
It's no coincidence that the AAACF has picked the first week of spring to launch our new website.
For us, just as for Mother Nature, this is a time of renewal. As you explore our new website, we hope that you find buds of optimism and seeds for a brighter future throughout. We've designed it serve to as a kind of virtual hub for connection, collaboration, and celebration as together we grow a stronger, more resilient, and loving community.
Read more on our blog.
TSOP Michigan award winners
Congratulations to the winners of the TSOPMI awards, which were presented to local Black philanthropists and organizations in the greater Washtenaw County area at the opening reception for "The Soul of Philanthropy" pop-up exhibit in Ann Arbor:
Sean Duval (Humanitarian Award)
Lemar Thomas (Young Black Philanthropist Award)
Faye Askew King (Community Spirit Award)
Willis Patterson (Legacy Award)
African American Cultural & Historical Museum of Washtenaw County (Giving Black Award)
See our news release for more information.
Fighting food insecurity: 20 years of partnership with Food Gatherers
In March, AAACF staff, board members, and volunteers helped us to get more than 75 pounds of food where it was most needed in our community via Food Gatherers. This was a great opportunity for the entire AAACF team to roll up our sleeves for a valuable cause while celebrating our 20 years of partnership with Food Gatherers.
To date, AAACF has worked with Food Gatherers to provide nearly $250,000 in Community Impact Grants for programs ranging from stocking community food pantries to a VA Mobile food distribution program. Since that first Community Impact Grant in 1993, AAACF has facilitated more than $900,000 in donor advised grants to support this work.
Always a leader, Food Gatherers took a giant step in sustainability by creating an Agency Endowment with AAACF in 2018. This fund will provide support in perpetuity to end food insecurities.
Pictured here: Shelley Catalan (Administrative Assistant), Dorcas Patterson (Director of Human Relations/Operations & Executive Assistant to CEO), Chris Lemon (Senior Community Investment Officer), Zac Smith (Business Intelligence & Systems Coordinator)
How to contribute QCDs to designated funds or field-of-impact funds
When you establish a donor-advised fund with the Ann Arbor Area Community Foundation, it is an excellent way to organize your charitable giving and get even more connected to the causes you care about.
You can give nearly any type of asset to a donor-advised fund at the AAACF, with the exception of the Qualified Charitable Distribution (QCD). A QCD allows taxpayer 70 ½ or older to make a direct transfer of up to $100,000 annually from an IRA to a qualifying charity. However, a donor-advised fund is not considered to be a qualifying charity.
But the AAACF offers other types of funds that can accept QCDs. For example, designated funds and field-of-imapct funds held at the community foundation are ideal recipients of QCD transfers. These fund types are often overlooked, despite the high value they can deliver to your client and to the community.
What is a field-of-impact fund?
The Council on Foundations defines a "field of impact fund" as "A fund held by a community foundation that is used for a specific charitable purpose such as education or health research." For example, you might be passionate about educational opportunities for young people or fighting food insecurity in Washtenaw County. You can select the name of the fund (family, cause-related or even nondescript) and our knowledgeable distributes grants from the field-of-impact fund in a way that is aligned with your values and charitable wishes outlined in the fund documentation.
What is a designated fund?
Designated funds are defined as "A type of restricted fund in which the fund beneficiaries are specified by the grantors." These are a good choice if you know you want to support a particular charity or charities for multiple years. Then you name the fund and our experts complete the distributions. Made over time, these funds can help the charity or charities' cash flow planning. Distributions are aligned with your wishes as determined in the original fund document.
Contact your financial advisor to learn more.
Tax time is a great time to get serious about your charitable plans
Charitable giving ranks high on many "how to use your refund" lists. Whether you have "bonus" money in the form of a refund or gain some peace of mind by knowing your upcoming tax obligations, giving intentionally and strategically always helps that gift go further.
Lean into intentionality
Many donors give to the same causes annually, with causes tied to faith, health and community ranking high among charitable giving trends. Recently, gifts involving food or housing insecurity, natural disasters and international conflicts have become increasingly popular.
Most important is giving to causes that are most meaningful to you and for which you can see the ways your gift contributes to positive change in the lives of people in our community.
The team at AAACF is a knowledgeable source of ideas, best practices, and data-driven approaches to helping you measure your impact. Our experts can be especially helpful if you have a cause in mind but may not immediately have an organization name or local chapter to support.
Because we have developed deep relationships and long-term partnerships in the community, you can confidently lean on our knowledge and experience to help you determine where your donation will have the biggest impact.
Level up your strategy
Structuring your gift for maximum impact and tax savings is another priority when it comes to charitable giving. If you already have a donor-advised fund at the AAACF, you are familiar with such benefits as:
ready access to our staff of experts
online to supporting favorite causes from your fund
the ability to maximize a gift with accompanying tax benefits
With full tax deductibility in the year of the contribution, donor-advised funds are an ideal way to "mentally offset" current year tax estimates that become known in April. If you don't yet have a donor-advised fund at the community foundation but are considering it, this may be the perfect time to jump in.
With these tips in hand, and with the help of the community foundation, you can better plan for the tax year ahead, knowing that causes important to you, whether legacy or new, will benefit from your generosity.
Shannon Polk among featured speakers at Forum 2023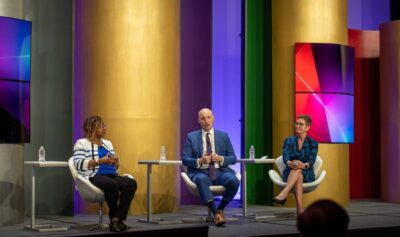 In February, Ann Arbor Area Community Foundation President and CEO Shannon Polk participated in panel discussion on "Secular Changes and Challenges Facing Nonprofits" as part of Commonfund's Forum 2023. This annual event, which was held is Boca Raton, Florida, is described as a "must-attend conference for institutional investors."
Read more about other featured speakers and critical topics from this event.