March 22, 2023
AAACF President and CEO Shannon Polk Among Featured Speakers at Commonfund's Forum 2023 Conference for Institutional Investors
In February, Ann Arbor Area Community Foundation President and CEO Shannon Polk participated in panel discussion on "Secular Changes and Challenges Facing Nonprofits" as part of Commonfund's Forum 2023. This annual event, which was held is Boca Raton, Florida, is described as a "must-attend conference for institutional investors." The agenda focused on critical themes related to strategic policy decisions for institutional investors. Discussions revealed secular trends and cyclical opportunities to help participants support and sustain the obligations and mission of their organizations.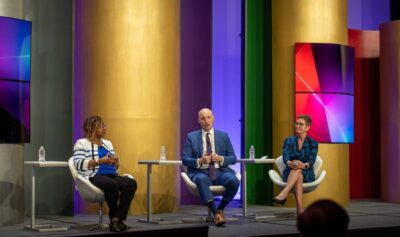 As part of the "Secular Changes and Challenges Facing Nonprofits" session, Polk was part of a panel of experts in a discussion about the financial and operational impact in nonprofits of factors such as the pandemic, interest rates, aging demographics and evolving community needs. Other speakers included Susan Scroggins (Board of Directors & Past Chair, National Association of College and University Business Officers; Senior Vice President Emerita Valparaiso University); Jerry Wise (Chief Financial Officer at Newfields which includes the Indianapolis Museum of Art, The Garden at Newfields, the historic Lilly House, the Virginia B. Fairbanks Art & Nature Park, and other cultural assets); and moderator Tim Yates President and CEO Commonfund OCIO). The discussion convened around potential solutions and how organizations are strategically addressing such challenges.
Other conference sessions spotlighted topics such as private equity strategies, uncertainty in the global economy, cybersecurity, and potential investor opportunities emerging out of such technologies like blockchain and cryptocurrencies. Featured speakers also included:
Rachel Wilson - Director of Cybersecurity, Morgan Stanley Wealth Management
William Dudley - President and CEO (2009-2018), Federal Reserve Bank of New York
Zanny Minton Beddoes - Editor-in-Chief, The Economist
Richard Haass – President, Council on Foreign Relations
Haben Girma - Human Rights Lawyer, Advancing Disability Justice
Brahima Sangafowa Coulibaly - VP Global Economy and Development, The Brookings Institution
and many others
"It was an excellent conference," Polk said following the event, which was her first time in attendance. "The session content was outstanding -- I learned quite a bit and thoroughly enjoyed participating as a panelist."
Commonfund is an asset management firm founded in 1971. As one of the pioneers of investing long-term portfolios for nonprofits and other institutions, they've been helping investors achieve their goals for five decades. Commonfund's two-part mission is to enhance the financial resources of their clients and to help them improve their investment management practices.